HBI have three state of art facilities for design development and manufacturing of the products. HBI is a single source and preferred supplier amongst many OEM's in India and abroad. Our well established manufacturing unit has complete in house facility including Research and Development wing where we design and develop prototypes based on customer's drawings. Moreover, HBI can also adapt our capabilities to comply with specific requirements of our clients and to develop technologically advanced and customized products. The electrical, mechanical and electromechanical components designed in HBI's unit are tested for maximum durability, so that they can withstand most severe applications and environment.




Machinery



To survive with the demands and compete the international market, HBI has the following machineries:-

• Sliding Head Automatic Turning Machine
XD32H of HANWHA, KOREA
• 04 CNC Turning Machines of HAAS, USA
• 07 Cam operated machine
• 02 Drilling Machine
• 05 Threading Machine
• 02 SMP for Drilling & Tapping
• 10 Manual Turning Machines
• Ultra Sonic Cleaning Machine
• Single Spindle Automatic Machine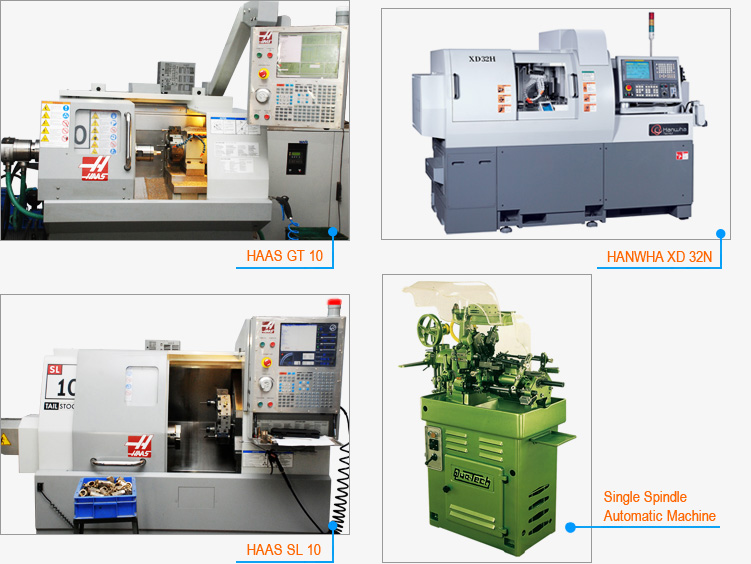 Service



Hindustan Brass Industries offers inventory management programs to support inventory tracking and control of machined customer parts. We are able to provide our customers with fast and accurate responses to support your unique, specific delivery requirements. HBI offers Vendor Managed Inventory (VMI) programs including Just-In-Time Delivery (JIT), Advanced Shipping Notice (ASN), Electronic Data Interchange (EDI).

Applications Served: Appliances, Controls, Electrical, Electronics, Fluid Power Systems, Instrumentation Components, Lawn & Garden, Machinery, Molded Inserts, Motion & Control Systems, Pumps, Sensor, Semi-Conductor and Valves.

Components Manufactured: Adapters,  Blocks, Bolts,  Bushings, Cages, Clamps, Collars, Couplings, Dowels, Electronic Connectors, Electrical Pin, Electrical socket, Fasteners, Fittings,  Gears, Hardware, Housings, Inserts, Knobs, Manifolds, Mounting Plates, Nozzles, Nuts, Pinion, Plugs, Plungers, Retainers, Cam Pins, Rings, Screws, Shafts, Sleeves, Spacers, Standoffs, Studs, Washers.

Materials Used: Brass, Copper, Bronze, Aluminum, or Custom materials.

Value Added Services: Anodizing, Plating, Burnishing, Passivation, Grinding, Knurling,  Stampings,  Mechanical Assembly.
Range of

Products

Brass Fittings Parts
Brass Sensor Parts
Brass Turned Parts
Brass Forging Parts